2020
A delegation led by Mr. Shimada, the new Director of the Japan Foundation Kuala Lumpur (JFKL), has visited the Faculty of Languages and Linguistics, Universiti Malaya, on 4th August 2020, 3pm - 4pm.
A fruitful discussion was held on several possible forms of collaborations between two institutions. The proposed collaborations cover many topics in the teaching and learning of Japanese language in Malaysia.
Both FBL and JFKL are looking forward in strengthening the network between two institutions and at the same time exploring more possibilities in collaborations in near future.
The members of the delegation that attended the meeting were: Mr. Shimada (Director), Ms. Umeeda (Head of Japanese Language Department) and Ms. Diyana (Program Officer, Japanese Language Department). From FBL attendance, there were: AP Dr. Surin (Dean), Dr. Roshidah (TDID), Dr. Rozita (KJ, JBAE), Pn. Masitah (Assistant Registrar), and the Japanese Team (Alphabetical order: Pn. Azni, Pn. Kitade, Dr. Musaev, Mr. Ong, Dr. Sato, Pn. Suzana, Dr. Wong, Dr. Woo)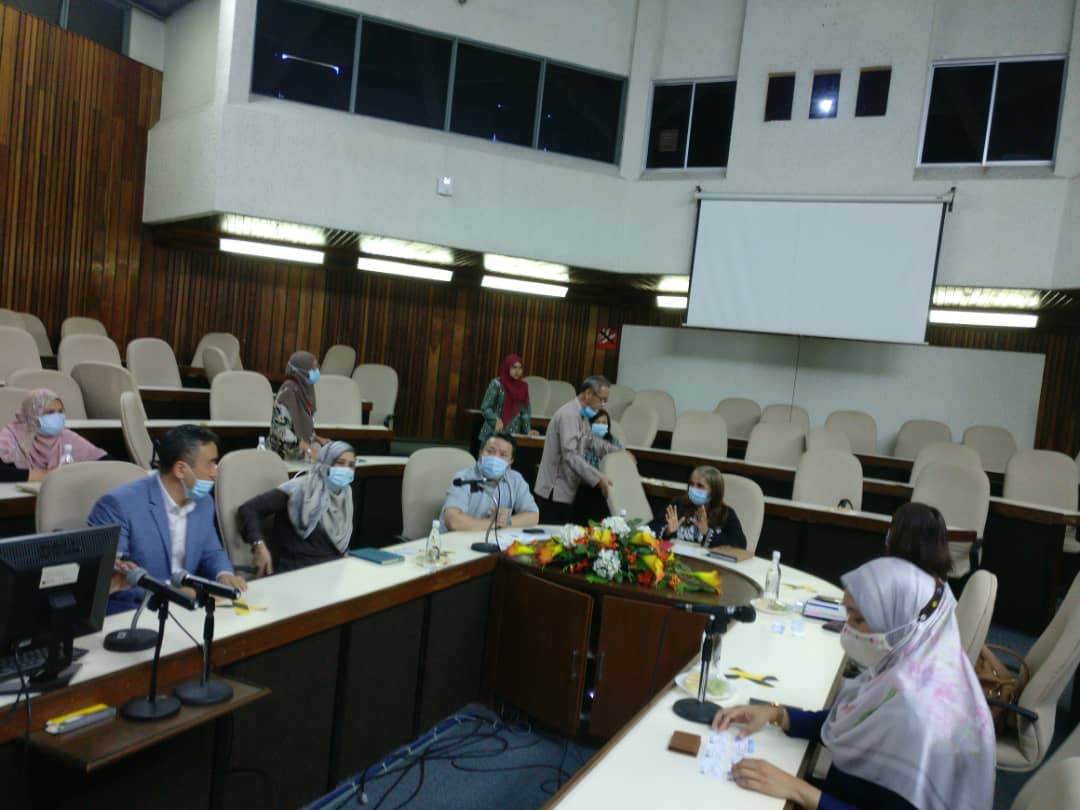 Meeting between faculty members of FLL and representatives from JFKL.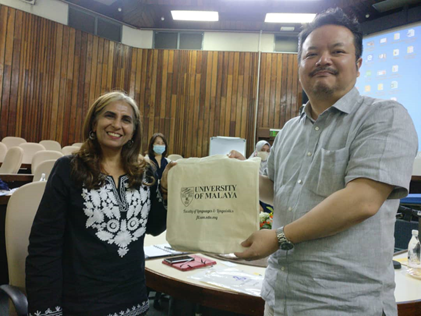 AP Dr. Surinderpal Kaur, Dean of FLL, presenting souvenir to Mr. Shimada, the Director of Japan Foundation Kuala Lumpur (JFKL).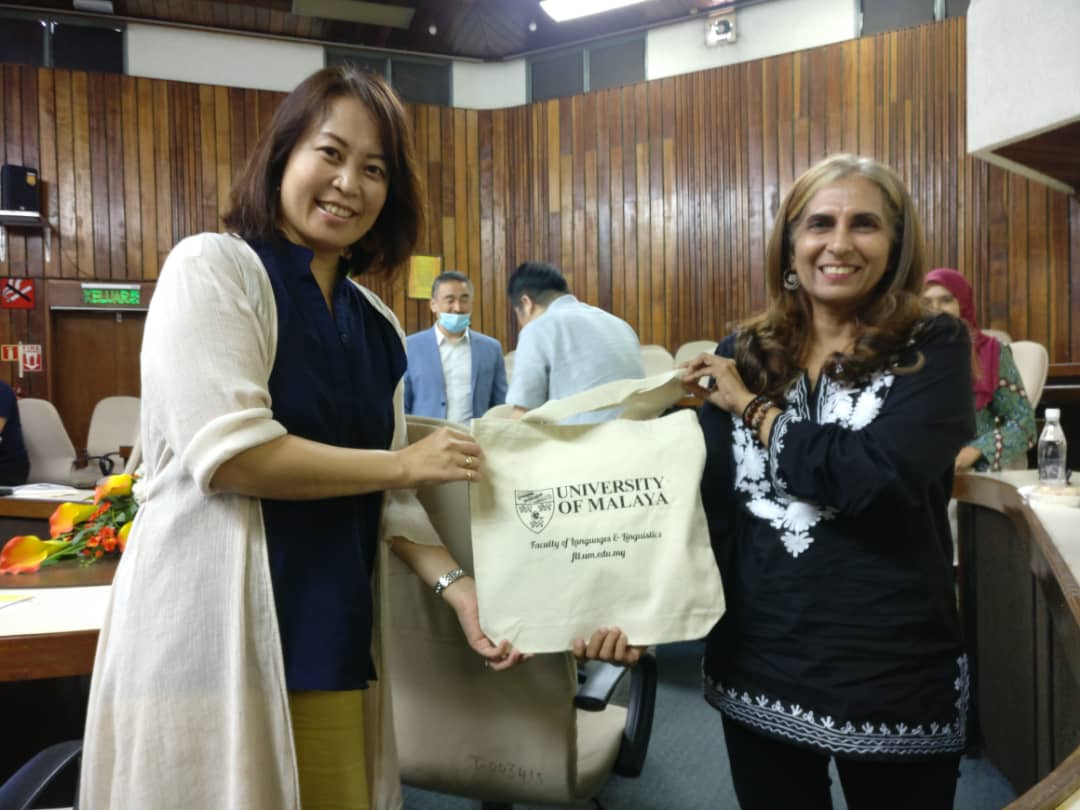 AP Dr. Surinderpal Kaur, Dean of FLL, presenting souvenir to Ms. Umeeda, the Head of Japanese Language Department. of JFKL.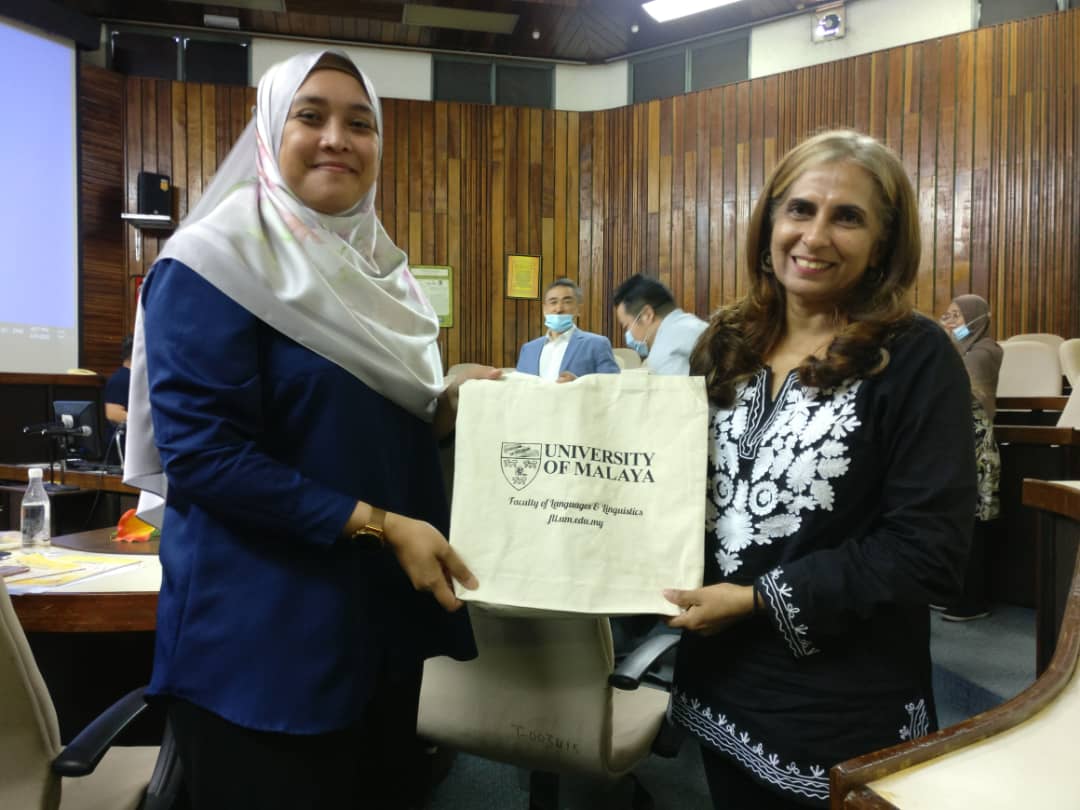 AP Dr. Surinderpal Kaur, Dean of FLL, presenting souvenir to Ms. Diyana, Program Officer of JFKL.
1. Signing of Memorandum of Agreement between

Universiti Malaya and Konstanz University Of Applied Sciences, Germany
Group photo after the signing ceremony
(First row from left to right: Dr Rozita Che Omar, Associate Professor Dr. Yvonne Lim Ai Lian, Associate Professor Dr. Jariah Mohd Jan, Professor Dr. Yong Zulina Zubairi, HTWG Konstanz Vice President Professor Dr. Beate Berge, Prof. Dr. Christian von Lübke, Dean Asian Studies Professor Dr Konstantin Hassemer, DAAD Director (Kuala Lumpur) Mr Brian Trenaman. Second row: Ms Christina Rita Meier, Ms Koh Yi Chern, Ms Ainun Rozana Mohd Zaid & Mr Ab. Halim Ahmad)
On 21st of February 2020, at 3.00 p.m. there was a signing ceremony of the Memorandum of Agreement between Universiti Malaya and the HTWG Konstanz (Konstanz University of Applied Sciences). The ceremony took place at Bilik Mesyuarat 3, Aras 4, Bangunan Canseleri.
Representatives from both universities were present for the event. On behalf of UM, Deputy Vice Chancellor (International) Associate Professor Dr. Yong Zulina Zubairi signed the MoA and witnessed by Dean of Faculty of Languages and Linguistics Associate Prof. Dr. Hajah Jariah Mohd Jan. On behalf of HTWG Konstanz, Vice President, Professor Dr. Beate Berge signed the document and witnessed by Dean Asian Studies, Professor Dr Konstantin Hassemer.
2. German Program Sharing Session with Alumni, Industry and Students
Group photo with the Presenters, German Team and Alumni at Cube during lunch
Listening to the first presenter at the Asmah Hj Omar, Learning Space
On 13th March 2020, from 10.00 a.m. to 2.00 p.m., German Program Team organized a Sharing Session and the event took place at the Asmah Hj Omar, Learning Space and lunch was later served at Cube.There were three invited speakers from the industry. The first speaker, Ms Silviana-Viorica Ana, was a representative from Goethe-Institute, Malaysia and she shared about their German Teachers Training Program and job opportunities with them. Mr Jonathan Lau from German Educare shared about the various job possibilities when one speaks German, about their company, internship, and job opportunities with them. Mr Brian Trenaman, the Malaysia DAAD Director and our German Visiting Lecturer, talked about reasons for studying in Germany, various programs could be found there, application procedure and scholarship opportunities.Two of our students who are currently undergoing the Double Degree Program at HTWG Konstanz were back in Malaysia for their semester break and offered to come back to UM to share with their juniors. Unfortunately, due to the Covid-19 virus situation, there was a change of personal plan for one of the students (Priscilla Tiong Jie Min) and she was unable to physically take part in this sharing session. But she contributed her ideas and the other student (Tan Jin Ting) presented that too. It was really good that they shared with their juniors about their experiences preparing to start their studies at the HWTG Konstanz and also their life there. Besides the four invited speakers, German team members, our program students, another student taking the double degree program (currently writing her final year project paper) and two other alumni were back for the sharing session. After the presentations, students were sitting in groups talking to the invited speakers and guests. It was truly a good and beneficial session for our students.
3. A talk entitled Foreign Language: the cross-cultural teaching approach. The case of Portuguese Language has been organized by Portuguese foreign language division on March 5, 2020. The talk was presented by Dr. Filipe Delfim Santos, a Portuguese Studies lecturer at the Universitas Indonesia and an Education and Cultural Attaché at the Embassy of Portugal, Jakarta. The talk highlighted on a different approach for teaching / learning, which is through cross-cultural method. Dr. Filipe also shared on the importance of literature in teaching of foreign language and he shared his literature studies to the audience.
Dr. Filipe Delfim Santos with Mr. Jamian Mohamad, UM's Senior Portuguese Language Teacher
UM students and lecturers attended the talk.
4. Spanish division has held an online La Liga talk, which was organized by Amanda García, the AECID Spanish Lecturer from Spain along with the Delegate of La Liga in Malaysia, Giorgio Pompili. Due to the confinement situation for COVID-19, the talk took place through the Google Meet application on May 8, 2020. 32 people attended this conference, all of them were Spanish students at the Faculty of Language and Linguistics at the University of Malaysia. The aim of the presentation was basically to bring students closer to Spanish culture through one of the most important tourist attractions, football. Through the viewing of a video at the beginning of the talk, the students learned that football is one of the main attractions that drives tourists to travel for experiencing how the Spanish people live football. Travelling to Spain to watch a football match offers many opportunities and many destinations and cities around Spain. Due to the fact that in one hour it is not be possible to talk about all the cities in Spain, 4 cities were selected: Seville, Barcelona, Madrid and Valencia. The topics shared with the students were about the most important monuments, traditional food, some examples of famous people and finally information about football teams.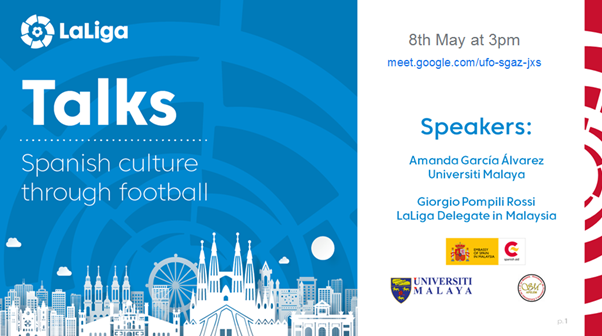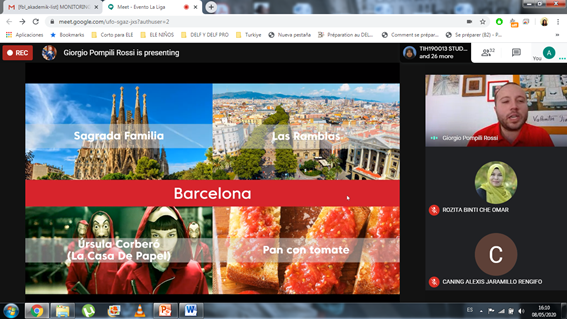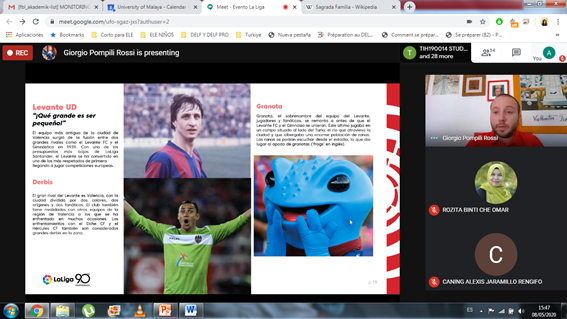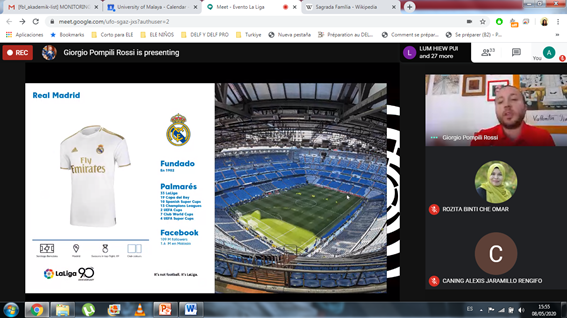 5. During Covid-19 issues, our Thai language teacher, Ms. Rosenun Chesof, has been actively involved in various sharing and discussion on online platform to show and explain on the current situations that was happening in Malaysia, to the Thai viewers. Different topics were discussed around the main Covid-19 topics. A Facebook page was also created to translate news from Malay or English into Thai and the page is to update news, current situation about Covid-19 and MCO and as well as to give suggestions, ideas and help Thai people who are facing many problem during Covid-19 pandemic in Malaysia. Ms. Rosenun has also written few articles in Thai to address the same issue. These initiatives were aimed to share and give pictures on how Malaysian government and civilians handle and fight against this pandemic issue.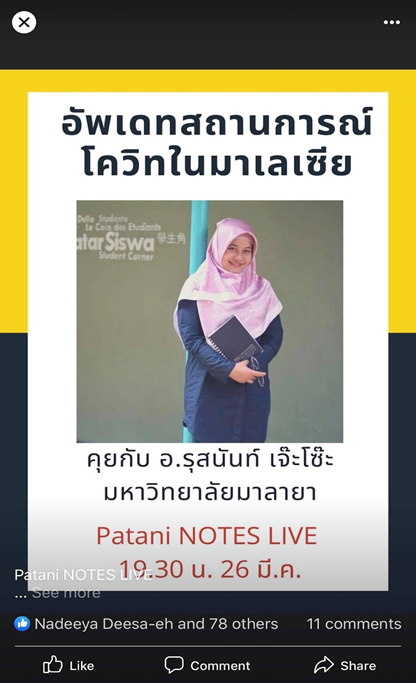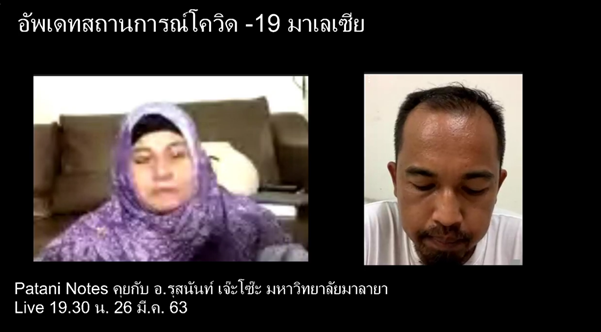 On March 26, 2020, Ms Rosenun did a Facebook live with Patani notes live to discuss about Covid-19 issue in Malaysia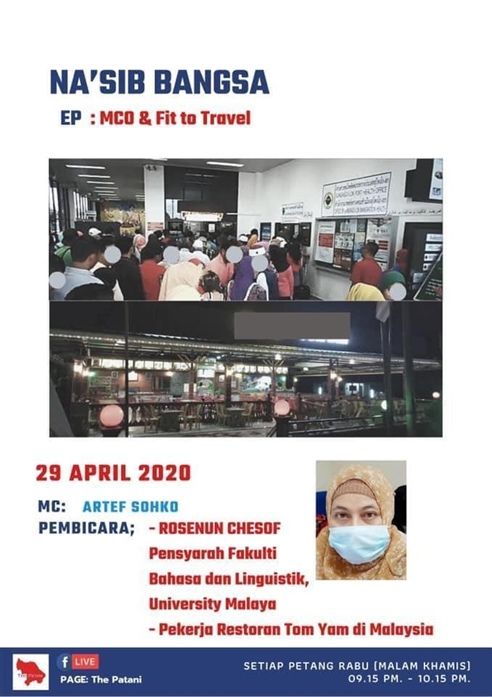 On April 29, 2020, Ms. Rosenun has been invited on Facebook live to discuss on the topic of "Na'sib Bangsa Episode MCO& Fit to travel", which was organized by The Patani Facebook Page.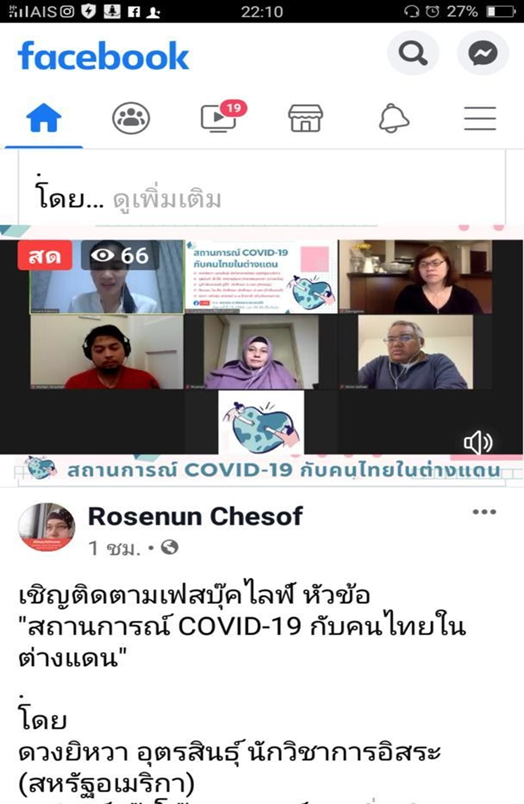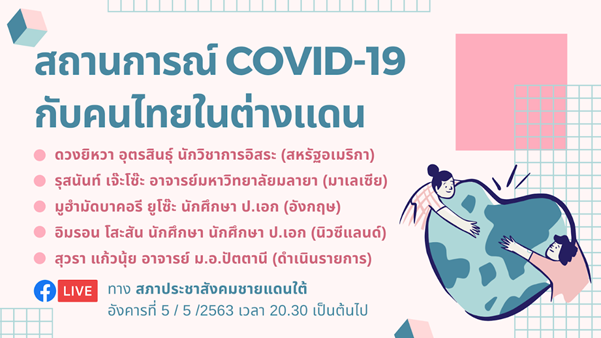 Ms. Rosenun Chesof has been invited as one of the presenters on Facebook live Talk, which was focusing on "Covid-19 among Thai people in overseas". The event was organized by Civil Society Council of the Southernmost Thailand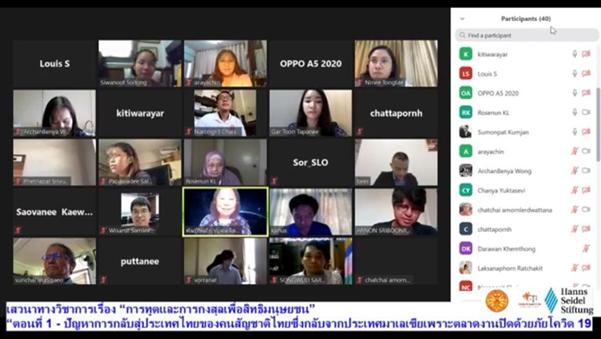 Ms. Rosenun Chesof has been invited as a presenter for a seminar on the topic of "Diplomatic and human right: Thai migrant workers in Malaysia and their problem how to back to Thailand?". The talk that was held on May 7, 2020, was organized by Faculty of law, Thammasat University, Bangkok legal clinic and Hanns Seidel Foundation German.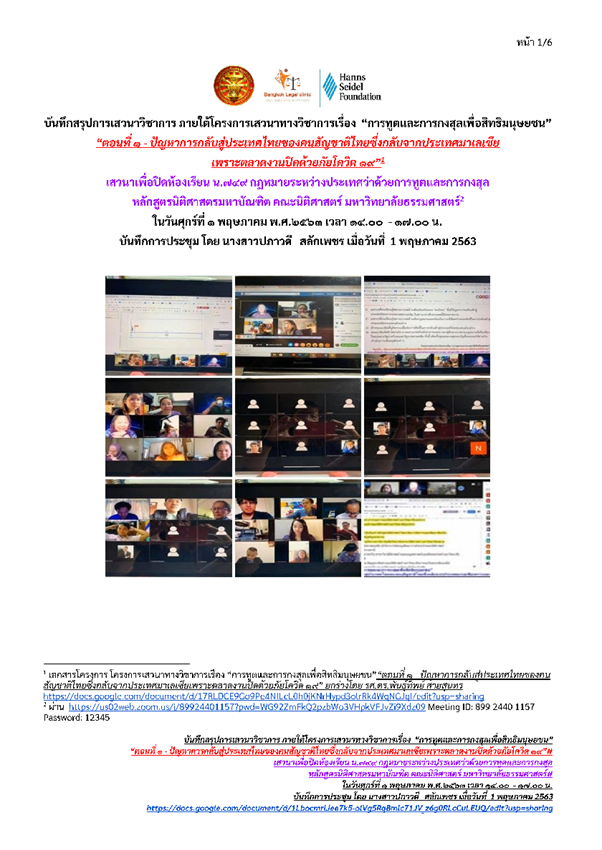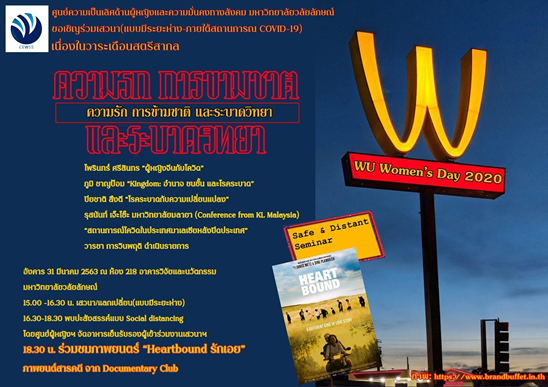 In regards of International Women's Day, Walailak University, Nakon Sri Thammarat Thailand has invited Ms. Rosenun Chesof as a presenter on an online seminar, to discuss on the topic of "Women, love, cross the border and covid-19 pandemic".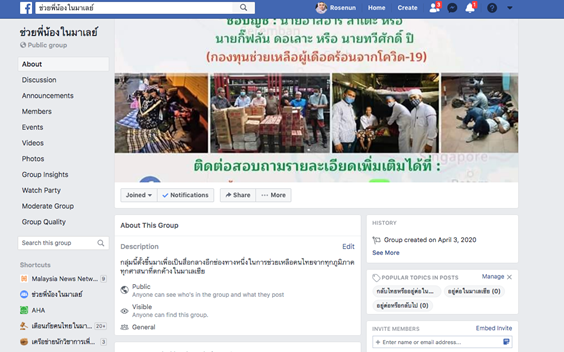 A Facebook group name in Thai "ช่วยพี่น้องในมาเลย์" which means "Bantu suadara di Malaysia" in Malay was created to translate news regarding Covid-19 and MCO, from Malay or English into Thai. Until now there are 9,586 members in this group. The link of the Facebook page is as follows:
https://www.facebook.com/groups/904009123369627/
Two articles in Thai language regarding to MCO and Covid-19 in Malaysia were published. The articles are as follows:
Ms. Rosenun Chesof has involved as a co-founder and secretariat of Special Committee of Thai Islamic Medical Association (TIMA) for Thai migrant workers due to Covid-19 struggle in Malaysia. On April 13, 2020, the association has signed the letter of agreement with Pertubuhan Gabungan Bantuan Bencana NGO Malaysia (BBNGO), which the objective is to facilitate the special assistance initiated by TIMA during the COVID-19 pandemic aimed to support Thai people who are facing the difficulties in daily life due to the effects of the Movement Control Order (MCO)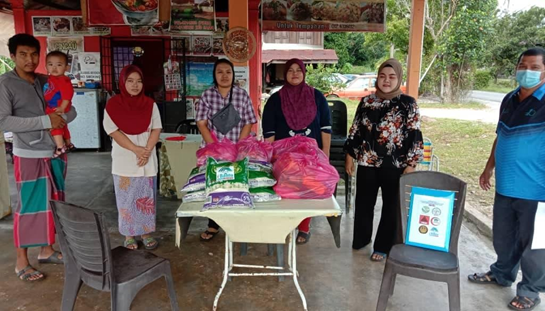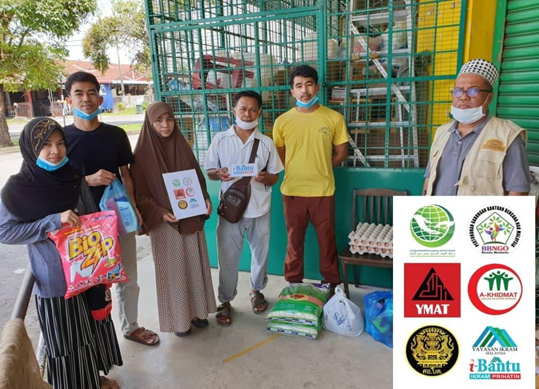 Thai workers who received the aid from TIMA and BBNGO.
Farewell Party Students German Programme
"A gathering between the German Programme students (2nd year) and the German Exchange students from Konstanz University."
12th Korean Speech Contest in Malaysia held in Dewan Perdana, Faculty of Social Sciences and Humanities, UKM on 4th November, Saturday.
German Sharing Session_10-11-2017
Outbound Student Exchange Programs Experience Sharing Session by Japanese Major Students
3rd year students, (Alychia, Damia, Hayate, Joe, Kiew, Peggy, Tirah), Japanese Majors from the Department of Asian and European Languages, organized a sharing session on outbound student exchange programs for their juniors. They spent 1 academic year in the following universities in Japan: Kanagawa University, Kyoto University of Foreign Studies, Soka University, Waseda University and Yamagata University.
Student exchange program to Manila funded by DAAD (German Academic Exchange Service)
from 11 to 20 June 2017.
"Italian books donated to the Faculty of Languages and Linguistics by the Cultural Association Emilio Salgari"
"Program -Lets Read together for 10 minutes."
Venue: National Library
Date: 25 April 2017
First year students attended the event at National Library in collaboration with The Embassy of Spain. In the event, HE Carlos Domínguez Díaz has officially delivered a copy of El Quijote which for the first time includes a chapter translated to Bahasa Malaysia."
April 1- The department of Spanish of FBL UM attended the inauguration of the academy of Spanish language at Las Lilas, Malaysia ( A spanish language and culture academy in Kuala Lumpur)"
Current situation of teaching spanish as a foreign language in Malaysia: achievement and challenges. 24 March 2017 (9.00am to 4.00pm)
Sakura Network Training Program for Teachers of the Japanese-Language (Pre-Advanced)-
Training period: 31 May - 28 July 2016
Venue: The Japan Foundation Japanese Language Institute, Urawa, Japan
Visit to Japan Foundation Tokyo

Bullet Train - Kagayaki

Tennis activity in Urawa Institute

Study trip to Kanazawa

Mid Term Oral Presentation

Group Supervisees & Supervisor
FLL ON TV
The Japanese segment that began airing on Monday the 15 February 2016 was conducted by Ms. Suzana Ismail